Contact Lens Price in Nepal depends upon Brands and Features. Contact lens is a small plastic wafer typically designed to rest on the anterior surface of the cornea or sclera (basically corneoscleral part) with the purpose to correct refractive errors and also used for the cosmetic purpose to artificially change the color of the way eye looks. For the people who have refractive error and don't want to wear spectacles and if they also don't want LASIK/Refractive surgery, these lenses are their first choice.
There are many types of contact lenses available in the Nepalese market, such as Soft Disposable Contact Lenses, Hard Lenses, Rigid Gas Permeable Lenses, Orthokeratology, Therapeutic Bandage Contact Lens, etc. The most commonly used lenses in Nepal is the Soft Contact Lens and here we are discussing, in brief, the brands, materials, wearing schedule, and Contact Lens Price in Nepal. Soft Contact lenses come on different modalities like Transparent Clear lens vs Color Lens, Daily disposable, Monthly Disposable, Bi-Weekly Disposable, Traditional Lenses. Before buying contact lenses you need to know the Basics, Instruction, and Oxygen permeability (Dk/t).
The major Contact Lens Companies in the Nepalese market
Alcon Contact Lens
Alcon is the largest eye care device company in the world. They have contact lens for all refractive error conditions such as nearsightedness, farsightedness, presbyopia, astigmatism, and also for color enhancement, lens are available in this company.
Alcon Products
Alcon has daily disposable contact lenses, Monthly Disposable, and Color Lenses. They don't make yearly contact lenses.  Air Optix, O2 Optix, Air Optix Aqua, Dailies are popular products in the South Asian Market. Alcon products were previously available in Nepal but nowadays these products are not available. If you are in India you can use visit https://amzn.to/2UV9MGx  to buy Alcon Lenses Online.
Alcon Contact Lens Products
Aveo Contact Lens
This contact lens is available in Nepal since 2019, these lenses are manufactured in Malaysia. Advanced, affordable, all‑day‑comfortable Aveo contact lenses are available in Major countries like UK, USA, Canada, Brazil, Malaysia, Hongkong, Singapore. These brands majorly focus on Direct to customer service so these lenses are cheaper than other brands compared to the same materials.
Available Modalities in Nepal: Daily and Monthly Disposable
Like other major brands, this brand also doesn't sell yearly contact lenses. This company also has color contact lenses and toric daily/monthly lenses in the global market. These lenses are available in major optical outlets of Kathmandu and major cities in Nepal.
Aveo Monthly Product Details
Type: Monthly Disposable
Material: Filcon II
Water Content: 50%
UV Protection: Yes
Base Curve: 8.6 mm
Diameter: 14.2 mm
Center Thickness: 0.075 mm (@-3.00D)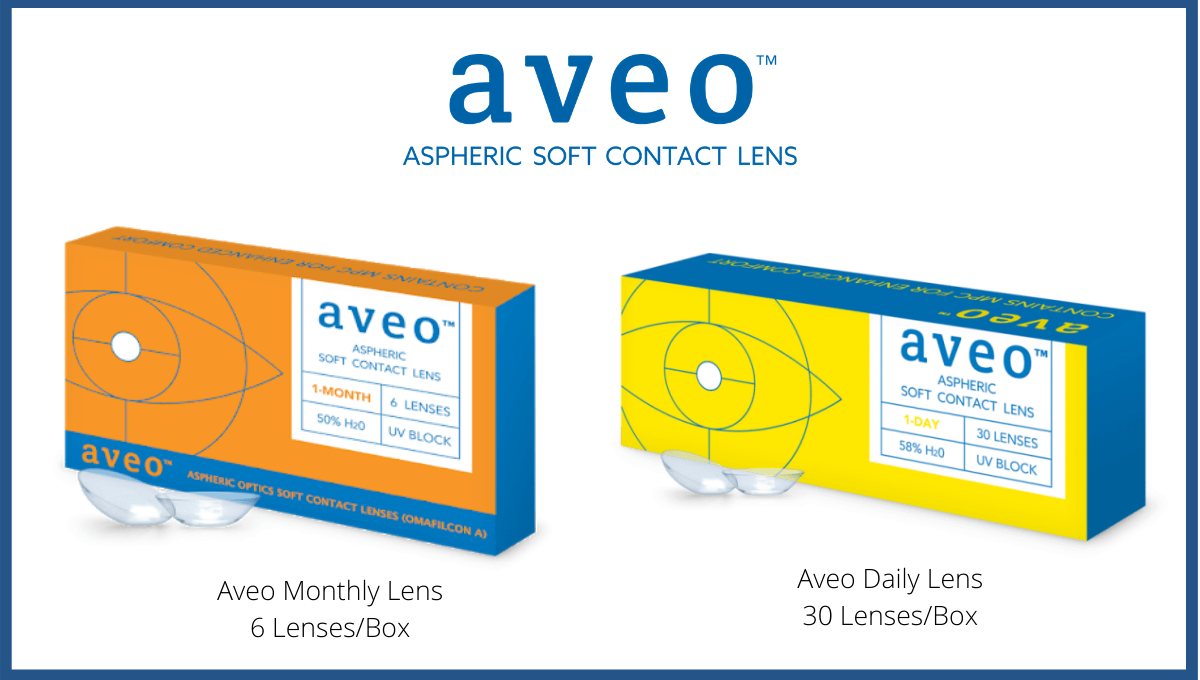 Aveo 1-Day Lens Product Details 
Material: Omafilcon A
Replacement Schedule: 1 Day
Water Content: 58%
Base Curve: 8.6 mm
Diameter: 14.2 mm
Center Thickness: 0.07 mm (@-3.00D)
Oxygen Transmissibility (Dk/t): 36.7
UV Blocking: Yes
Visibility Tint: Light Blue
30 sterile soft contact lenses
Aveo Contact Lenses price in Nepal for Monthly Disposable lenses is NPR 1500 for 6 lenses pack, and NPR 3,000 for Daily disposable 30 Lenses pack. 
CooperVision
CooperVision is one of the global leading contact lens manufacturers. Since 1980, They have  been providing contact lenses to people all over the globe.
Available products and price in Nepal
Clarity 1 Day
Lens Material: 44% Somofilcon A (Si-Hy)
Lens Type: Single Vision Daily Disposable
Water Content: 56%
Base Curve: 8.1 mm
Diameter: 14.1 mm
Central Thickness: 0.07mm
Dk/t: 86
UV Blocking: Yes
The price of Clarity 1 Day lenses (30 Lenses Pack) is Rs 3800. 
Biofinity
These lenses are available in powers ranging from +15.00D to -20.00D.
Material: omafilcon A
Water Content: 48%
Replacement schedule: Monthly
Oxygen transmissibility: 160 Dk/t (at -3.00D)
Base curve: 8.6
Diameter: 14
UV Protection: These lens does not provide UV protection.
The price of Biofinity Monthly Lenses (6 Lenses Pack) is Rs 4500 for spherical power.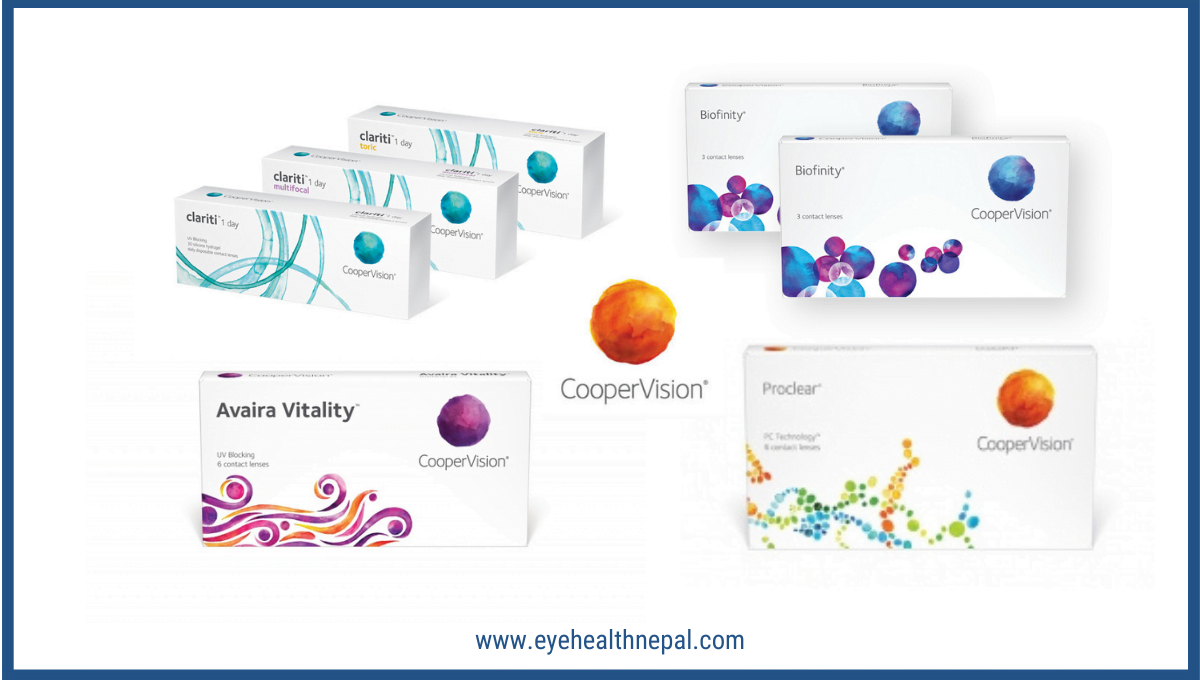 Avaira Vitality
Avaira Vitality™ is a contact lens that keeps up with your lifestyle, offering high performance, long-lasting comfort, and a healthier lens-wearing experience.
Material: fanfilcon A
Water Content: 55%
UV protection: Yes
Replacement schedule: Two-week
Oxygen transmissibility: 110 Dk/t (at -3.00D)
Base curve: 8.4
Diameter: 14.2
The price of Avaira Vitality Lenses 2 weekly Lens (6 Lenses Pack) is Rs 3000 for spherical power.
Proclear Lens
Proclear Lenses of Coopervision is an economic brand.
Material: omafilcon B
Water Content: 62%
Replacement schedule: Monthly
Oxygen transmissibility: 36 Dk/t (at -3.00D)
Base curve: 8.6, 8.2
Diameter: 14.2
The price of Proclear Monthly Lenses (6 Lenses Pack) is Rs 2300.
Bausch + Lomb Contact Lens
Previously  Bausch & Lomb Contact Lens was available in Nepal, we will update it after we will get information regarding sales of Bausch + Lomb contact lens details as there are rumors.
Johnson and Johnson contact lenses
ACUVUE® 2 Brand Contact Lenses are available in Nepal. It is a versatile bi-weekly contact lens for clear, comfortable vision.
SEED contact Lenses
SEED is running the contact lens business with their corporate philosophy of "Supporting Your Vision with Japanese Quality". This company manufactures daily lenses, Bi-weekly lenses, Ortho k lenses, RGP lenses, Iris Lenses.
Available SEED lenses in Nepal
SEED 1dayPure moisture
SEED 2weekPure moisture
Breath-O Correct Japan Quality Orthokeratology Contact Lens
Purecon contact lenses
Purecon contact lens is one of the popular contact lens brands in Nepal. As they have Yearly Disposable lenses while other major brands don't have yearly lenses, and people are in search of yearly lenses, purecon is quite Popular in Nepal.
Purecon Super Soft Yearly Disposable Spherical Contact Lenses
Material: p-HEMA (Polymacon)
Water Content: 38%
Dk: 9
Light Transmission (@600 nm): >96%
Modality: Yearly
Base Curve: Median
Diameter: 14.00 mm
Centre Thickness: 0.10 mm @ -3.00
Purecon contact lenses price in Nepal starts from Rs 2000 for Supersoft lens and Rs 2800 for O2X Contact Lens. These both lenses are power lenses and packing comes on Vial.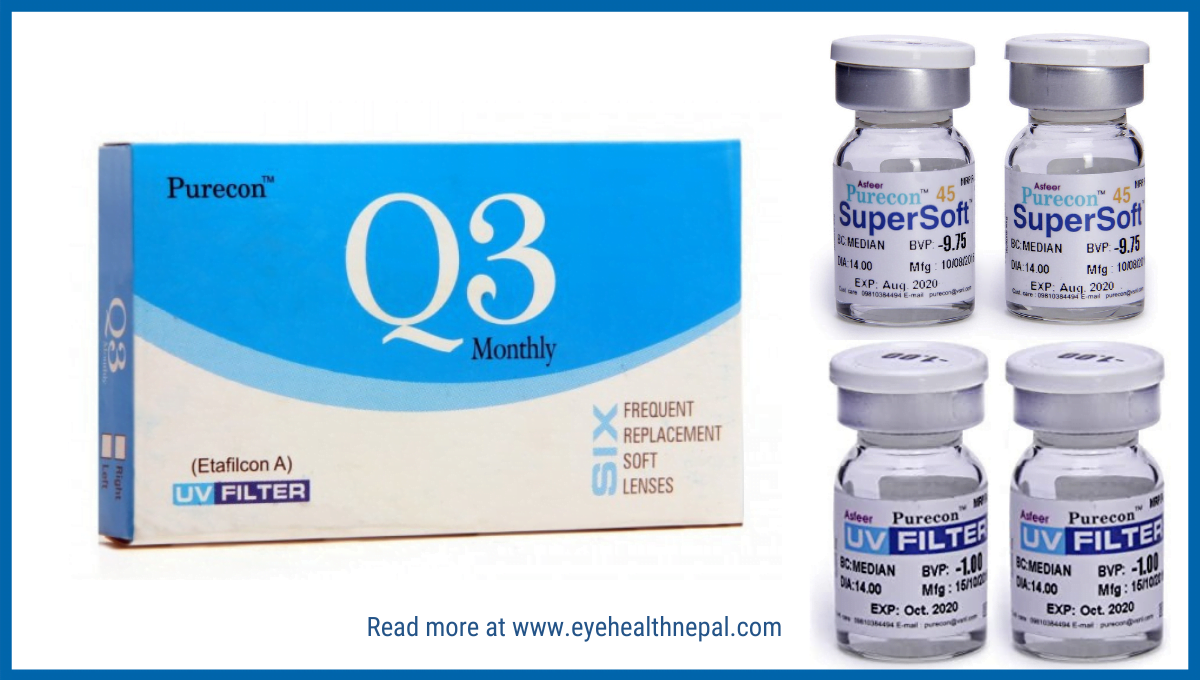 Purecon Q3 Monthly Disposable Soft Contact Lenses
Purecon Q3 is a monthly disposable soft contact lens. Each box contains 6 Lenses. Lenses are packed in Blister packing. Lens Specification is as follows:
Material: Etafilcon A
Water Content: 58%
Base Curve: 8.5
Diameter: 14.2 mm
Central Thickness: 0.08 mm @ -3.00
Each box contains 6 Lenses
One visibly tinted UV blocking lens immersed in buffered saline solution
Price of Purecon Q3 Monthly Disposable Soft Contact Lenses in Nepal starts from Rs 1800/- 
Conclusion
From the above data product comparison sheet, here are the best brands to buy contact lenses in Nepal.
Daily Disposable Lens
You can choose
AVEO Daily lenses (30 lenses pack)
as the first economic option in Daily lenses which is available in the market for NRs 3000. These lenses are made up of Omaflicon A material and have Dk/t value of 36.7.
If you want to buy Silicone Hydrogel material lenses then you can choose
CooperVision Clarity 1 Day daily lenses
which have 86 Dk/t value, more oxygen permeable with 56% water content, available in Nepalese market at Rs 3800 for 30 lenses. Both AVEO daily and Clarity 1-Day lenses have UV protection features formula.
Bi-Weekly Lenses
The first choice for Bi-weekly lenses in Nepal is the 
SEED 2 Week Moisture lens
. It contains 58% water contents, Dk/t value 30, and UV protection formula is also available. As compared to the other 2 weekly contact lenses available in Nepal, the SEED lens is more than half in price than other brands having similar properties. Thus, Seed 2-week lenses are the most inexpensive packs amongst all other 2 week packs available in Nepal.  This SEED 2 Week Moisture lens comes in the packaging of 6 lenses per dispenser and costs Rs 1300.
Monthly Contact Lenses
For monthly disposable, as a first economic option, you may choose
Aveo Monthly Lenses (6 Lenses pack)
price is around Rs 1500 / 6 Lenses, and the second economic option is
Purecon Q3 Lenses
.
The Dk/t value according to Holden & Mertz criteria for Daily Wear modality lenses (the lens that is worn only for a single day for 10 to 14 hours ),  is 

24 x 10

-9.
Yearly Conventional Contact Lenses
Dr. Gary S Hirshfield MD says, "The advantage of planned replacement is that a new lens will always have fewer deposits, especially proteins, on it. The deposits that develop on contact lenses over time with use can lead to chronic inflammation that can make contact lens wear intolerable. Therefore, I think planned replacement at a minimum of once a month is beneficial and I recommend it." 
Conventional disposable lenses are not prescribed in western and developed countries nowadays because of the high risk of infection and complications than disposable lenses. They usually come in a pair and the same lens is worn for a long time. For Extended wear and silicone hydrogel, you can choose the above-mentioned brands as well.
Where to buy contact lenses in Nepal?
In Nepal, there are many Optical shops selling Contact Lens of different brands, If you are going to try contact lenses for the first time it will be better to visit Eye Hospitals / Eye Clinics that offer you the trial of the lenses and teach you about the wearing techniques, insertion and removal tips, Lens hygiene details and more information about healthy lens wearing tips. If you are using contact lens regularly you can buy them from Eagle Eye Ophthalmic Enterprises Pvt Ltd, Located at RB Plaza Shop No 23, Newroad Kathmandu which is Nepal's Authorized Contact Lens Outlet of Various international brands. You can also contact them via Facebook pages 
Eagle Eye Ophthalmic Enterprises Pvt. Ltd. (facebook.com)
.