3nethra classic digital non-mydriatic fundus camera is one of the best economic range fundus camera manufactured by Forus Health Pvt Ltd Bengaluru, India. Forus Health is a medical technology company with an audacious goal, to eradicate preventable blindness, which is a global healthcare challenge today.
3nethra classic is a light weighted machine as compared to other brand's fundus photography machine. This fundus camera captures both anterior and posterior segment photographs. This is a non-mydriatic camera which means you can capture retina images without installing dilating eye drops on a patient's eye.
As per the Forus health official website, these fundus cameras are currently being used in 26 countries and more than 2200 installation were made.

Product Specifications
Field of View (FOV) 40 degree,
Optical resolutions of 8-14 microns,
This device's camera consists of a 3-megapixel image sensor,
USB 2.0 Interface connection with PC.
It works on a DC current of 5 Volts 4 amp (3-5 watt), Adapter having an AC-DC converter converts AC to DC.
Internal display on the device: None, need to connect with PC/Laptops to run the fundus camera.
Device weight: 3.4 Kg, without motorized table.
Minimum Computer System Requirements to run fundus camera software
Operating System: MS Windows 10 (64 bit)
CPU requirement: 2.2 GHz or higher, 4 GB
RAM: 4 GB or more
Processor: Minimum i3, 7th or 8th Generation
Hard Disc: 500 GB or more hard disk space
Display requirement: 1356 X768.
3nethra classic Parts
Working mode
This device work on 2 modes that are
Standard mode
Telemedicine mode
Standard Mode
It is suitable for eye hospitals and ophthalmologist clinic, where an ophthalmologist can write the findings and recommendation after capturing photos in the same place. This mode works offline and it doesn't need an internet connection. The captured photo will be saved to local drives, and the report can be generated instantly. Various features such as Disc CDR analysis, Dry eye Meibomian glands photography, corneal and retinal lesion marking function support this mode.
Telemedicine Mode
Telemedicine mode is suitable for a nursing home, general hospitals, primary eye care centres and Vision centres where ophthalmologist is not available, these days many diabetic centres are equipped with a fundus camera and they screen all diabetes patient by capturing retina photo and send them to ophthalmologist by using this mode. Forus health provides telemedicine service for that they charge an additional cost as an annual maintenance charge. Internet connection is required to use telemedicine. In this mode, while capturing the retina image or anterior segment image the first capture takes few seconds (approx. 5-6 seconds) to display on the laptop.
How Telemedicine Works? 
3nethra classic manufacturer Forus Health provide an add-on telemedicine server which is optional.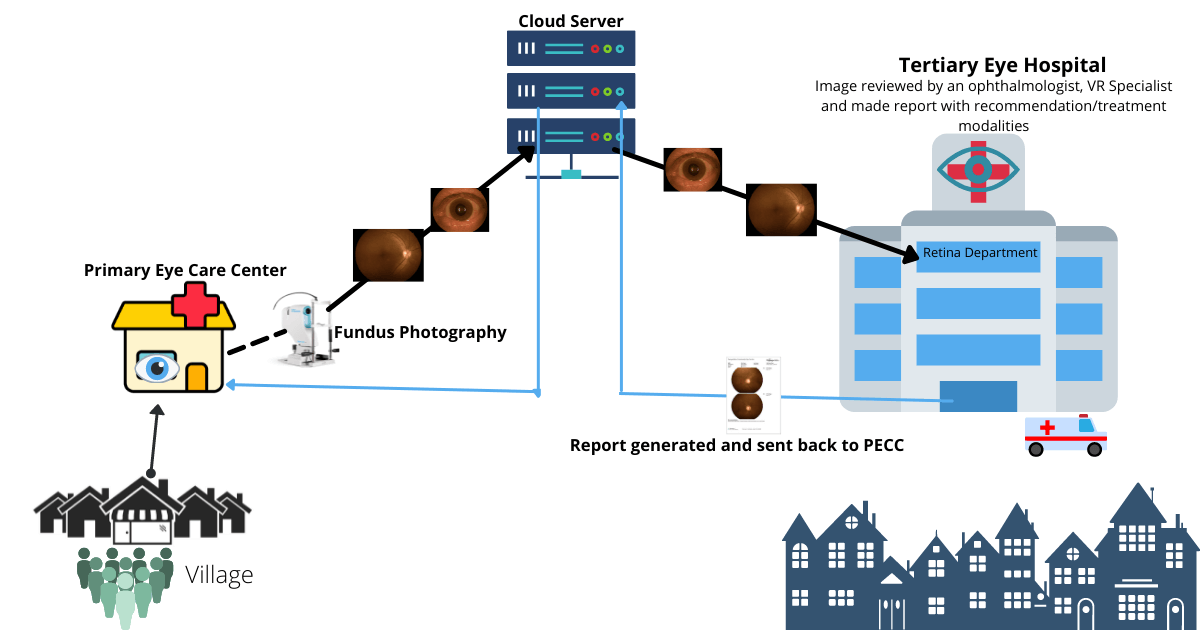 Patient from rural village area facing eye problem visit the nearby Primary Eye Care Center (PECC) at first, allied ophthalmic personals who were working on PECC will take a history, vision tests and performs eye examinations if they find any problems in an eye then they will fill the demographic details of patients, histories and capture anterior and posterior segment photos, after that, it will directly upload to the cloud and the notification will be shown to the ophthalmologist who is assigned for telemedicine services,  he/she will review the photo on their computer and give their recommendation based on the uploaded image and clinical details of patient, then the digital signature will be made by an ophthalmologist.
After completion of the review process, the notification of Report is ready shown on the Primary eye care center, they download the report, print it and provide a report back to the patient and counsel them as per the ophthalmologist/VR specialist's recommendation, if a patient requires surgery, laser treatment or any advance treatment the referral will be made to the tertiary eye hospital.
User-friendliness
3nethra classic digital non-mydriatic fundus camera is a user-friendly device. This device has an infrared camera inbuilt which can show a live retina image when you move the joystick to capture the image. There is a rotational focus knob for a manual focus system in this device where you can manually tune the images for clear focusing. You can train someone very easily to capture the anterior and posterior segment photo.
Good Points of 3nethra classic digital non-mydriatic fundus camera
Price (Comparatively cheaper than other)
Instant image capture, can be used in high volume screening.
Non-mydriatic capture
Low power consumption and works with Direct current (DC)
Manual focus function
Easy report generation
Maintain patient records and follow up visit in software.
Multi-functional: Imaging of posterior, anterior, and dry eye with same device.
Good online support for any problems encounters on the device.
Weakness
No internal fixation target, there is only manual external fixation available.
Lower camera megapixel as compared with other fundus cameras.
No internal display is available with the device.
Montage feature not available on Classic model, it is available on Classic HD model which is costly than classic.
Anterior photography is just capturing diffuse illumination photo, Ac cells and structures were not been captured in this device.
Image Gallery of 3netra photography
Here are some anterior and posterior segment photography captured using a 3nethra classic digital non-mydriatic fundus camera.
Price of 3nethra classic
The price of a 3netra classic digital non-mydriatic fundus camera in Nepal starts from NPR 850,000 according to Nepal's dealer BioMedical Solution Pvt Ltd and the price may vary as per the optional.
Conclusion
3nethra classic digital non-mydriatic fundus camera: a good choice for a low-cost fundus camera. If you also need montage retinal image features and also slightly higher quality image then the 3netra Classic HD will be the best options for you. The laptop and printer were not included in the camera device, you have to buy laptop and colour printer additionally from your nearby computer market.
Review Author: Kiran Subedi
Disclaimers
All views expressed in this article are the authors own, do not have any financial, non-financial interest with the company/manufacturers/dealers and do not represent the opinion of any entity/organization in which the author is involving now.